26 Mar

Nike Hoop Summit Selects ISA Senior Guard to Highest Honor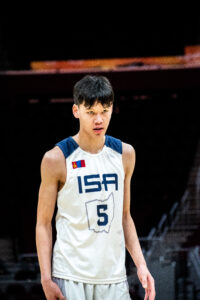 ISA guard Mike Sharavjamts (6'9″, Class of 2022) was named to the 2022 World Team at the Nike Hoop Summit, to be held in Portland, Oregon on April 8th.  After two years off due to the ongoing Covid-19 Pandemic, the Hoop Summit is due to return.The Hoop Summit is an illustrious event that showcases the young basketball talent in the world. 
Sharavjamts is a 6'9" point guard, committed to Dayton University. He is due to become the first Mongolian player to play Division 1 Basketball in NCAA history. He averaged 9.6 points, 5 rebounds, 4.4 assists, 1.1 steals and 1.4 blocks per game in his Senior season. His father was the first Asian Harlem Globetrotter.
Previous attendees include former top 3 draft picks Kevin Durant, Kyrie Irving, Anthony Davis, Zion Williamson & John Wall. In the past numerous future NBA stars have suited up for the World Team, including Nikola Jokic, Joel Embiid, Karl Anthony-Towns, Ben Simmons, Shai Gilgeous-Alexander, Jamal Murray, RJ Barrett & Andrew Wiggins. Two NBA Champions, Dirk Nowitzki and Tony Parker, played for the world team in this event.
Mike finished his high school career with two big games in his new hometown of Dayton, Ohio at the Flying to the Hoop Top Gun Showcase. He had seven 3-point field goals made over two games, while making high level reads as the lead guard for ISA. He had missed the previous month with an ankle injury and was thankful to be back on the floor. Mike's play earned him a spot on the showcase's First Team honors and praise from scouts at the event.
A big congratulations to Mike Sharavjamts as he represent his family, his home country, and ISA basketball in one of the most elite high school basketball showcases in the world!
For more information on the Nike Hoop Summit go to www.nikehoopsummit.com
For more information on ISA About
– Jesse Bender