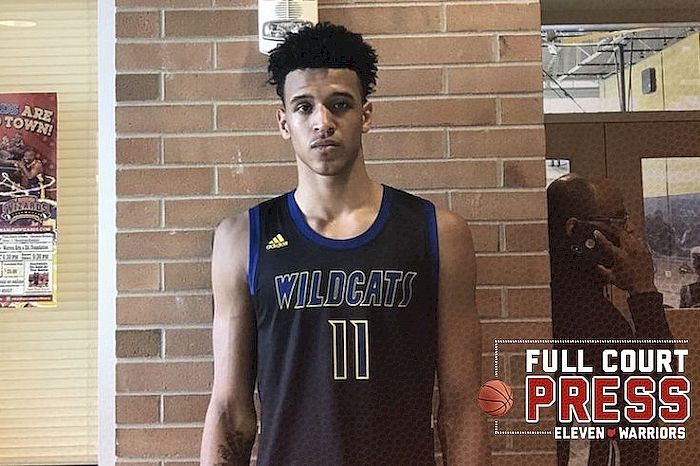 17 Jul

Full Court Press: Jalen Bridges Talks Ohio State Visit and Offer, Charles Bediako Details Recent Buckeyes Offer
A CANADIEN OFFER
Charles Bediako hasn't slept much in the past month. Basketball has taken precedence.
The four-star center's journey began when he traveled to France with Canada's U19 FIBA World Cup team in late June. There, Bediako spent about five days before heading to Greece for the FIBA tournament, which featured some of the best under-19 players in the world. At 17 years old, he played two age groups up and was the youngest player on his team. After six games in eight days, he took a 12-hour flight from Greece to Toronto, where he only spent one day before leaving in a bus on a 14-hour drive to Georgia to play with the U16 UPLAY Canada team at Peach Jam, the famed Nike EYBL grassroots event.
Finally, Bediako can get some sleep – but not until after an impromptu phone call from Holtmann.
Ohio State hosted Bediako, who plays for ISA at Andrews Osborne Academy in Willoughby, for a visit in November, and the coaches have been tracking his progress in the eight months since then. At last weekend's Peach Jam, Bediako said, he saw a Buckeyes coach at each game he played. Shortly after he completed his games, assistant coach Ryan Pedon sent him a text to let him know "the whole coaching staff really loved" him. He also mentioned Holtmann might soon reach out.
On Monday night, he got the call from Holtmann who extended an offer.
"He was just talking to me, saying, 'We really like you,'" Bediako told Eleven Warriors on Tuesday. "He said he wanted to call to officially offer me a scholarship to Ohio State. Honestly, I was excited. I was excited, but I just kept poised."
After talking with Chris Holtmann, l am blessed to say l have received an offer from Ohio State University #GoBucks pic.twitter.com/qUPsIR98RK

— Charles A. Bediako (@CBediako) July 16, 2019
Bediako, a 6-foot-11, 215-pound center, now holds offers from Illinois, Ohio, Rutgers, Detroit and the Buckeyes. Marquette and Texas recently reached out, and Kentucky, Michigan State, Maryland, Dayton and Xavier have reportedly expressed interest. After his recent performances, that list will continue to grow.
Jonathan Givony and Mike Schmitz, draft analysts for ESPN, mentioned Bediako as a future NBA prospect to watch after seeing him play in Greece. He's currently the No. 65 overall prospect and ninth-ranked center in the 2021 cycle.
Ohio State has positioned itself well early in the recruitment of Bediako, a native Canadian who plays for ISA at Andrews Osborne Academy in Willoughby. After his November visit to Columbus, he told Eleven Warriors that he felt the Buckeyes were the first team that "really wanted" him, and the interest hasn't changed eight months later.
"Coach Ryan, he calls frequently, we talk," Bediako said. "I still have that great feeling. Even when I posted about (the offer), the fan base, a lot of Ohio State people there just congratulating me. It just puts a smile on my face."
Bediako is particularly fond of Pedon, who has a similar interest in the big man.
"For coach Ryan, he said basically he likes me, not only likes me as my skills and how much potential I have, but he also likes my character," Bediako said. "He liked when me and Ryan ran together the pick and roll. He just likes how I have a high motor up and down the floor and I can be versatile. And he also just liked how I was coming along, like from the beginning when he first saw me to now. He told me he was just happy and proud and excited."
The connection between Bediako and Ohio State added an unexpected variable when ISA recently hired former Buckeyes walk-on-turned-scholarship player Jake Lorbach as an assistant coach.
Bediako hasn't known Lorbach for long, but they were in contact soon after the offer.
"(Lorbach) texted me actually yesterday," Bediako said. "He was going crazy."
Bediako doesn't have any visits to any school scheduled. Holtmann told him he wants him to visit Ohio State again this fall, though.
Link to Full Article