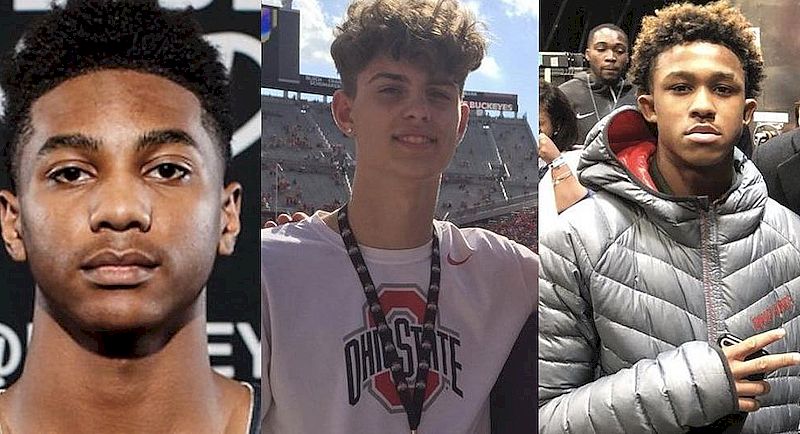 25 Mar

A Look at Ohio State's Top In-State Basketball Recruiting Targets

The easiest thing a newly hired head coach can do to win the support of a fan base is to publicly declare their intention to recruit the best in-state high school players to play for their college program.

In December, Ryan Day made it a point in his first press conference to send a message to both players and coaches in the state, saying it will be the team's "first priority to recruit Ohio football players." More than a year prior, Chris Holtmann said the basketball program will work to "close the borders and dominate the state of Ohio in recruiting."

In Holtmann's first two full recruiting classes, two of the seven prospects the Buckeyes signed hail from the state of Ohio. Justin Ahrens played for Versailles, and Alonzo Gaffney played for Villa Angela-St. Joseph and Garfield Heights before moving to Brewster Academy in New Hampshire for his senior year of high school.

The next few recruiting cycles have some notable in-state prospects who have already garnered interest from Ohio State and surely will become – if they aren't already – top targets of Holtmann and his staff.

Let's take a look at the most intriguing Ohio prospects the Buckeyes should be interested in landing.

KALEN ETZLER (2021 – CRESTVIEW)
FOUR-STAR 6-FOOT-8, 195-POUND FORWARD
In Crestview, the name Etzler is synonymous with basketball. Kalen and his brother Javin, a 2019 Miami (Ohio) signee, play high-school basketball in a gym named after their grandfather. Their uncle, Doug, played for Ohio State in the 1990s.
Kalen might be on track to follow his uncle and eventually become a Buckeye. In the recently released 247Sports 2021 recruiting rankings, Etzler was named a top-50 overall prospect and the top recruit in Ohio, edging out Johnson.
The Buckeyes have not offered Etzler a scholarship, but they have invited him on multiple visits. Etzler grew up an Ohio State fan, and there's mutual interest. Miami (Ohio), Duquesne and Bowling Green have offered him scholarships, but that list should extend this summer. Provided Etzler continues to fill out his frame and develop his offensive game, he'll remain a top target of Ohio State.
CHRIS LIVINGSTON (2022 – BUCHTEL)
UNRANKED 6-FOOT-5, 170-POUND WING
Don't be fooled by Livingston's lack of a ranking. He's so young that most recruiting analysts haven't begun to rank players at his age. But he's undoubtedly a future five-star prospect and a top-10 national recruit. He's on the path to become a first-round NBA draft pick.
Livingston is such a high-level prospect that there's a growing chance he won't attend college. The NBA has formally proposed dropping the age restriction to enter the league from 19 to 18, which would allow players to enter the draft out of high school. If passed in time, Livingston would be a prime candidate to leave early.
Holtmann and his staff has already begun to recruit the future in-state five-star prospect. Ohio State offered him a scholarship last summer before Livingston had ever played a minute of high-school basketball. Florida and Akron have also offered scholarships to the Buchtel star, and other schools will surely be soon to follow.
It will be an immensely difficult battle for the Buckeyes to win, but they'll work the next couple years to earn his pledge. Even if he's a one-and-done player, Livingston's impact on Ohio State would be drastic.
OTHERS TO WATCH
JOHN HUGLEY (2020 – BRUSH)
Hugley has gone a bit under the radar, but he's on the precipice of being a top-150 prospect and has interest from Big Ten programs. Pittsburgh, Penn State, Nebraska and Xavier are among the programs that have offered him scholarships. The Buckeyes have not offered the 6-foot-8 big man, but Hugley has visited Ohio State and Holtmann watched him play in person a month ago.
ZACH LOVEDAY (2020 – HUNTINGTON PREP)
This is a bit of a reach due to where he currently plays, but he can't be glossed over. Loveday is nearly a top-50 national prospect who played at Gallia Academy before transferring to West Virginia's Huntington Prep in January. He has taken multiple visits to Ohio State, including a trip in the fall. The 7-footer holds interest from multiple other Big Ten programs, including Indiana and Michigan, along with Louisville and Stanford. The Buckeyes have offered him a scholarship.
SETH WILSON (2021 – ST. VINCENT–ST. MARY)
Despite being just a sophomore in high school, Wilson has taken multiple visits to Ohio State. The 6-foot-1 guard holds mid-major offers, and his list of interested schools should expand this summer. Expect the Buckeyes, who have not offered him a scholarship, to keep a close eye on him.
CHARLES BEDIAKO (2021 – ANDREWS OSBORNE ACADEMY)
Bediako visited Ohio State in the fall along with Ambrose-Hylton and their coaches. He's a 6-foot-9 power forward who, like Ambrose-Hylton, is a native of Canada. Bediako picked up an offer from Illinois a month ago. In the fall, the 6-foot-9 forward called Ohio State "probably the first university" that he felt wanted him. The Buckeyes have not offered him.
E.J. FARMER (2021 – LUTHERAN EAST)
Farmer has multiple mid-major offers and has taken visits to both Michigan and Michigan State. If he continues his ascension, it would make sense for Ohio State to get further involved in his recruitment. The Buckeyes have not extended an offer. He was first-team All-Ohio.
MALAKI BRANHAM (2021 – ST. VINCENT–ST. MARY)
Branham, Wilson's classmate, is a 6-foot-4 wing who holds interest from Ohio State's staff but does not have an offer. Akron and Ohio have offered him scholarships. Branham starred in middle school in Columbus before playing high-school basketball for St. Vincent–St. Mary. His cousin, Kalil, is committed to Michigan to play football.
PAUL MCMILLAN (2022 – HUGHES CENTER)
Though he just completed his freshman year of high school, McMillan has drawn interest from a multitude of major programs. He averaged 25 points, four rebounds and four assists per game in the regular season. Tennessee-Martin offered McMillan a scholarship before he even played a high-school game. The Buckeyes haven't offered him, but they'll be following his progression.
SEAN JONES (2022 – GAHANNA LINCOLN)
Despite his 5-foot-9 size, Jones is one of the state's top prospects in his class. His agility and shiftiness serves him well. Jones visited Ohio State a year ago and will remain on the coaching staff's radar.